made here.
feel good.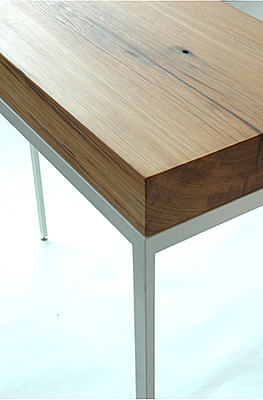 Joist on White - Nine Stories Furniture

$1,050
36.5"h x 40.25"w x 13"d
Reclaimed southern yellow pine, Steel

The "Joist On White" console is the third in a trio of consoles that were produced as a series in 2008. Each of the other two consoles where on view at and sold through Voos. These pieces are perfect for the entrance or entry hall to any home or apartment. This particular console features a removeable top in old growth southern yellow pine which was reclaimed from a factory floor in Hoboken NJ. The wood, as a function of both its age and species, is very dense and hard. The base of the console is hand fabricated in 1/2" x 1" solid steel bar, with tig welded connections. Each leg meets the floor with a stainless steel thumbscrew for easy leveling.

Contact
718 218 8666
[email protected]
copyright © 2017 Voos Furniture - all rights reserved.
April 12, 2017
In order to view this site better, you need Flash Player 9+ support!