made here.
feel good.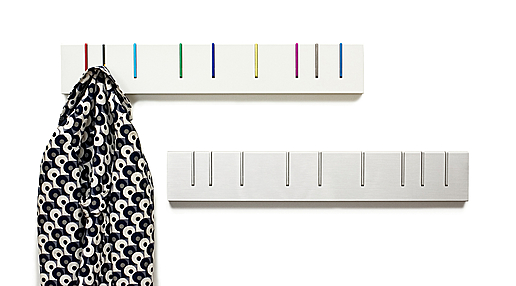 Symbol Coat Rack - Desu Design

$435
6"h x 36.25"w x 1.5"d
Anodized aluminum, white powdercoated steel (color cover)

This playful but sophisticated coat rack was the result of a domestic argument. We were out of closet space, and the coats were overflowing. But we had an aversion to wall hooks - empty and unattractive many months out of the year. We created the Symbol, a practical object we're happy to look at year-round. During the coatless summer months the Symbol hangs as a purely aesthetic piece, as the hooks lay flat and belie their function. When needed, the hooks pull smoothly out to help you organize your stuff. Available in monochrome or color. Monochrome has an anodized aluminum finish for both the housing and the hooks. Color has white housing and vibrant color anodized hooks. Currently in the showroom.

Contact
718 218 8666
[email protected]
copyright © 2017 Voos Furniture - all rights reserved.
April 12, 2017
In order to view this site better, you need Flash Player 9+ support!