made here.
feel good.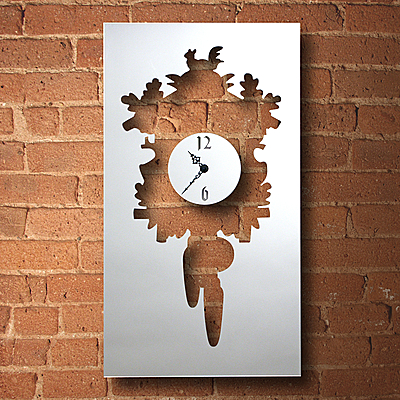 Lost Cuckoo Clock - Sonic Design

$110
22"h x 12"w x 1.5"d
Mirrored Acrylic

Migrating from his homeland to New York over 15 years ago, Klaus Rosburg has been an award-winning pioneer in Brooklyn's vibrant design scene. His German genes came through when he designed his contemporary version of the original German Cuckoo's clock. The "Lost Cuckoo Clock" combines a negative cuckoo clocks frame with a floating face, making your living room wall part of the design. The clock is made of mirrored acrylic and comes with a quartz movement (one AA battery included). Made in Brooklyn. Currently in the showroom.

Contact
718 218 8666
[email protected]
copyright © 2017 Voos Furniture - all rights reserved.
April 12, 2017
In order to view this site better, you need Flash Player 9+ support!